Fresh Fruit Tart:

Your favorite fruits have never tasted so good! Learn how to make this tart that features fruit layered over a sweet, creamy custard filling and a shortbread crust, and finally brushed with a light peach juice glaze. This beautiful fruit tart makes a stunning addition to any summer meal, and easily adaptable to your favorite fruits. And have I mentioned how delightful it is… Mmm

You will take home your own small pan minus one piece (Except I can't guarantee that you'll stop at 1)!

Creamy Corn Soup with Chicken bites:

Capture the sweetness of corn and the richness of butter and cream, infused by sautéed minced onion and garlic…. But wait, we're not done yet, and cooked with bites of perfectly seasoned tender chicken breasts, so what else can you ask for?

Stuffed Portobello Mushroom:

Roasted Giant Portobello mushrooms are stuffed with a savory combination of feta cheese, parsley, cherry tomatoes, lemon juice, olive oil, and minced garlic, and topped with melted mozzarella cheese, Melt in your mouth deliciousness!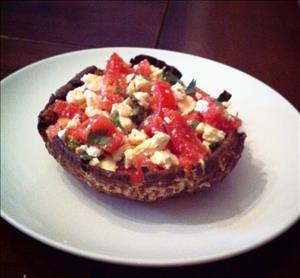 This is going to be the last class for this summer, we'll be back in fall/1014